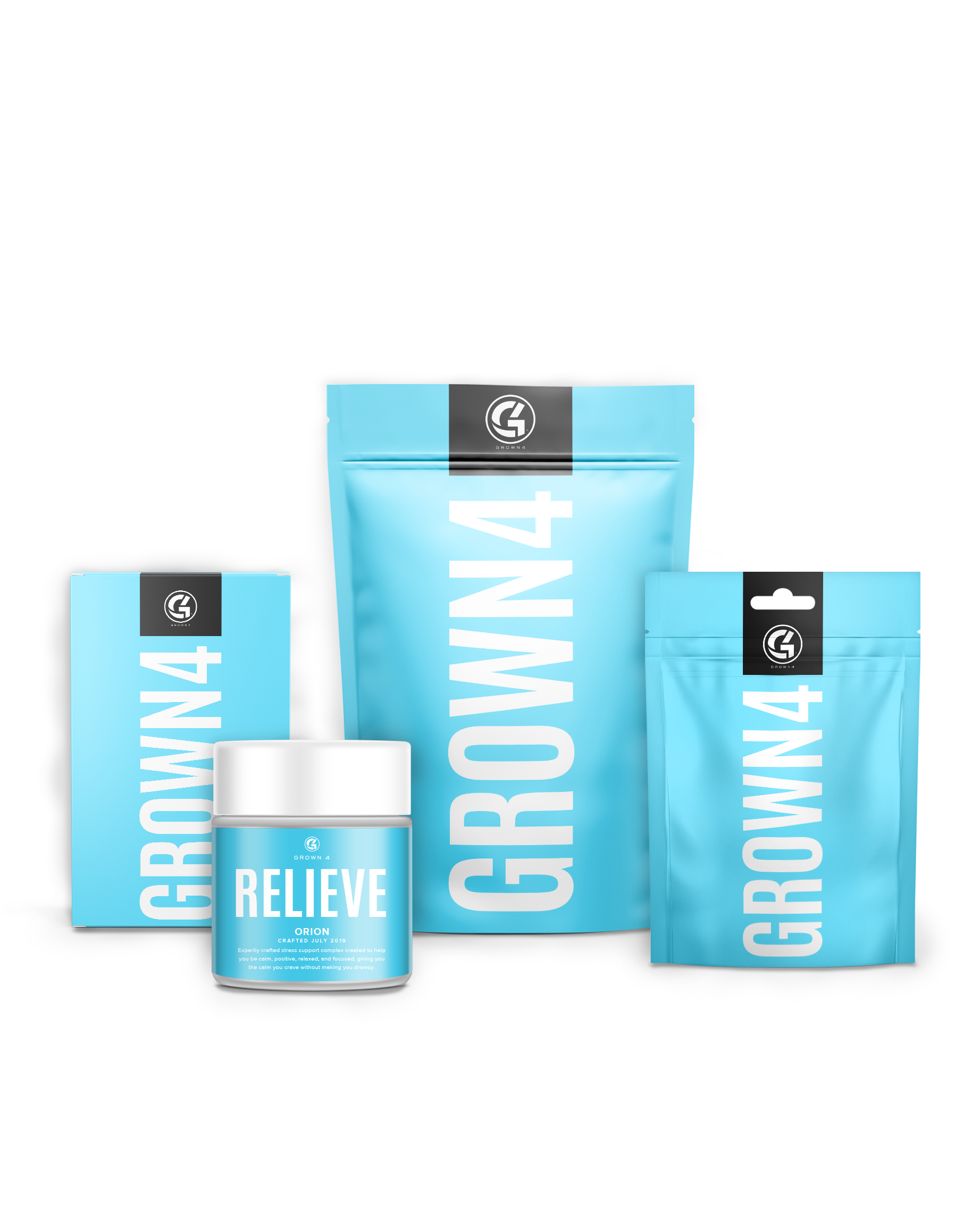 RELIEVE
Grown4 rest & relaxation. Get relief!
Grown4 Relieve are specially curated strains that relieve many of the most common ailments that affect our daily lives. Our Relieve product line promotes physical and mental relaxation, helping to alleviate chronic pain, appetite loss/nausea, insomnia, anxiety, depression, and PTSD.
Effects: Relaxing, Calming Muscle Tension, Improved Sleep, Happiness
Great for: Chronic Pain, Appetite Loss/Nausea, Insomnia, Anxiety, Depression, Stress, & PTSD

Chocolate Cherry Runtz is a highly potent strain that not only tastes like chocolate and cherries, but  is also deeply calming and sedative.

Franken Cakes is a rare Indica with flavors of mango and coffee. Its effects relax the body and mind making it great for relieving soreness and anxiety.

Wind down your evening with sweet lemony, highly potent White Runtz. This relaxing strain produces tingling sensations helping relieve chronic pain and stress.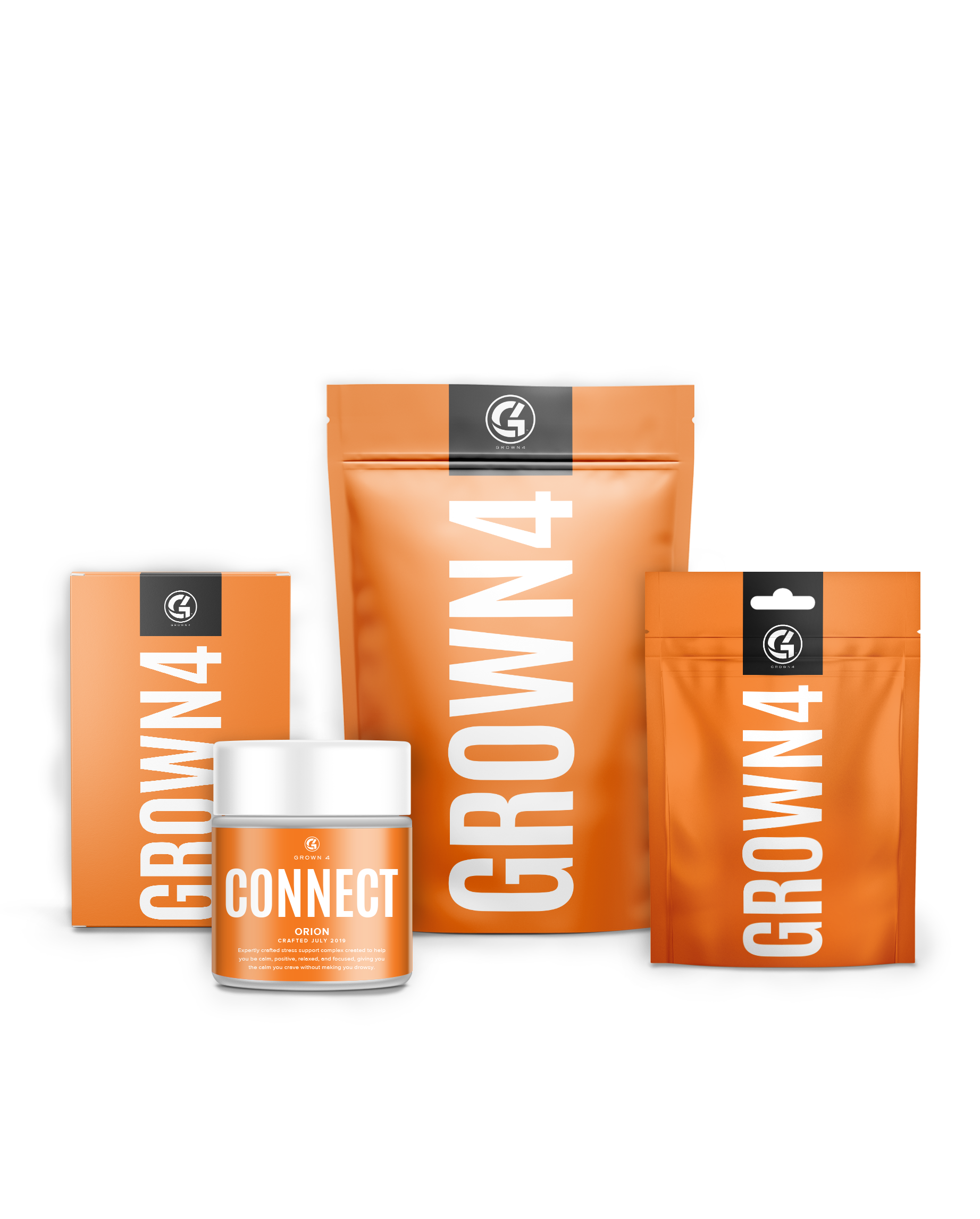 CONNECT
Grown4 engaging & socializing. Get Connected!
Through connection, we find happiness. Grown4 Connect products are known cannabis strains that bring us together. Perfect for campfires under the stars or BBQs in the backyard, Grown 4 Connect strains enhance your sociability and find that nostalgia within all of us.
Effects: Happiness, Euphoria, Enhanced Sociability
Great for: Anxiety, Stress, Depression, & Social Occasions

This Indica dominant hybrid alleviates social anxiety making connecting with others easy. Tasting of grapes with gassy undertones, it's perfect for any social occasion.

Purple Cookie Bomb is a sweet and enjoyable strain with intense gassy undertones. Highly energizing and euphoric, this strain is excellent for social occasions and reducing anxiety. 

Free your mind and connect  with Orange Eruption. This inviting hybrid has a tropical aroma and tastes of fresh sweet oranges. Its mind easing nature makes it great for reducing social anxiety and pain.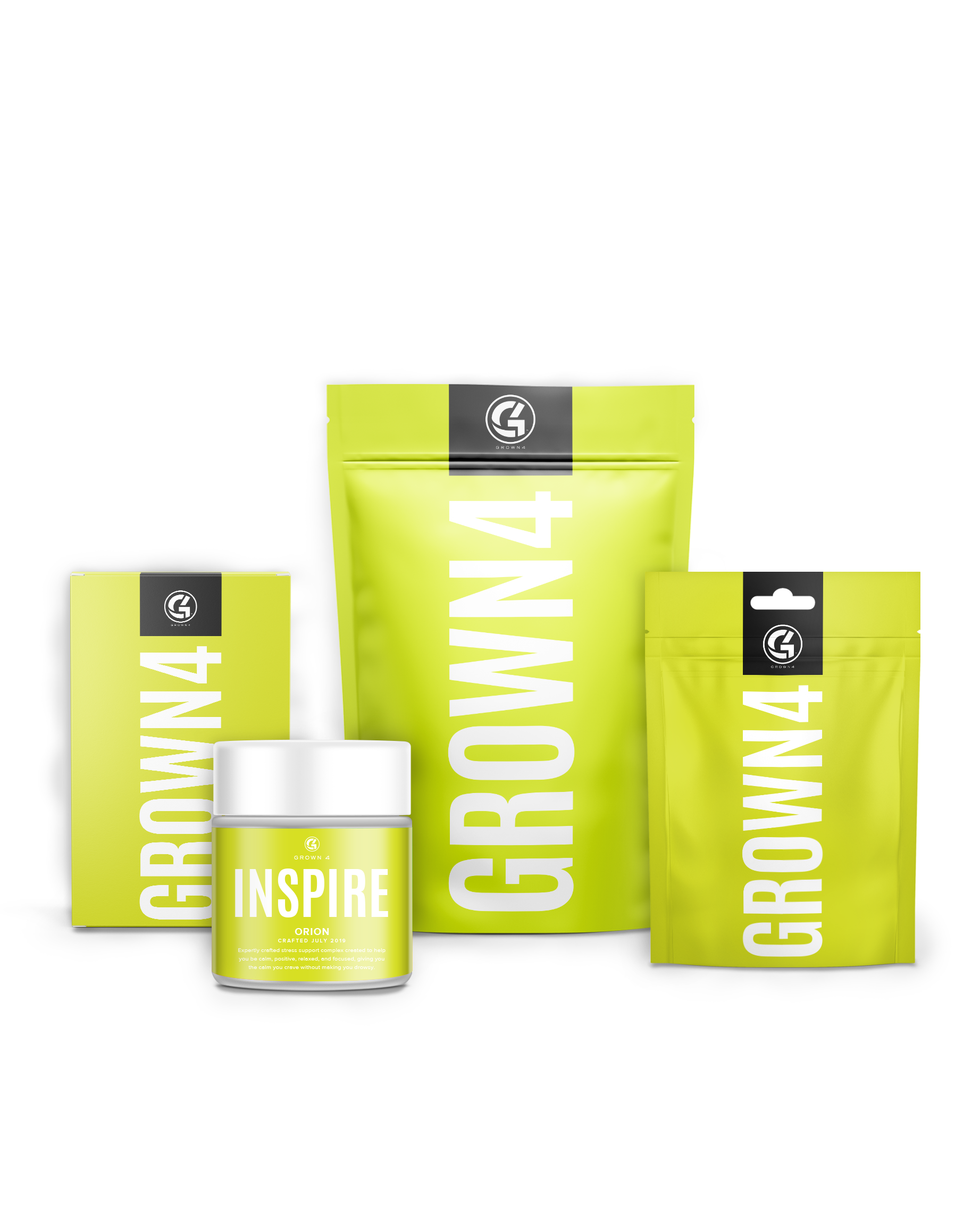 INSPIRE
Grown4 creativity & expanding the mind. Get inspired!
Expanding our cerebral existence is valued as one of cannabis's most potent properties. Grown4 Inspire strains amplify those properties by igniting inspiration. These strains enhance creativity and mindfulness, making them perfect for creative projects, meditation, spiritual connectivity, and deep thought. Have any Query Contact Us
Effects: Enhanced Creativity, Euphoria, Relaxation, Mind Expansion, & Focus
Great for: Stress, Creative Block, ADHD, Depression, & Deep Meditation

Lemon Lava provides an alert,  refreshing high. The flavors of citrus zest, fresh mint, and subtle grape improve focus and elevate mood. Perfect for ADHD, depression, and low energy levels.

For the wandering spirit, this strain ignites cerebral exploration. Great for day or night, Schedule 1 is hoppy, with notes of pine and sweet caramel. 

Hawaiian Ice alleviates muscle tension and inflammation while having an uplifting cerebral effect. Its berry and citrus flavors add to its uplifting properties, making it great for anxiety and fatigue.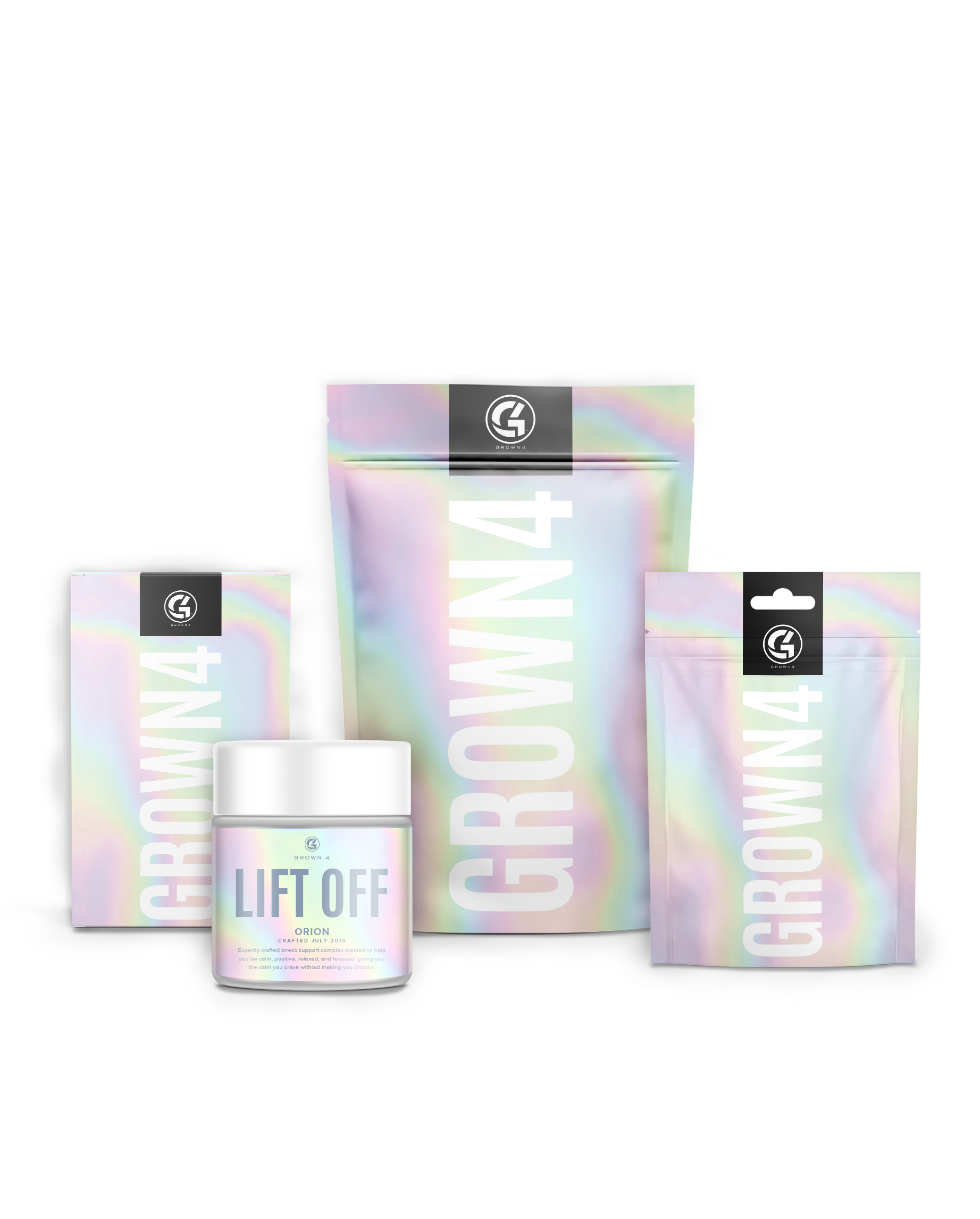 LIFT OFF
Grown4 energizing & focus. Get productive!
Our days are hectic, filled with tasks and distractions. We need energy to stay focused and accomplish everything we need to get done. Grown4 Lift-Off strains maximize your daily productivity while sustaining your energy and focus. Great for people that struggle with ADHD, depression, and lack of energy.
Effects: Enhanced Focus, Energy Boost, Happiness, & Uplifting
Great for: ADHD, Depression, Low-Energy, & Improving Focus

Truck Driver is a sweet and spicy Sativa dominant hybrid that enhances mood and focus. Great for daytime use, this strain provides a boost of energy to be productive throughout the day.

Lemon Runtz is a rare and incredibly THC potent strain with highly energetic properties. Great for uplifting moods, this strain is perfect for daytime use. Loved for its vibrant lemony flavor.

Truly a cannabis unicorn. Producing a relaxing yet focused state-of-mind, it is a perfect blend of body high, cerebral expansion, and euphoria. Blunicorn stimulates appetite and reduces nausea.
DATA-DRIVEN, WE ARE CULTIVATING COMMUNITY CURATED STRAIN DIVERSITY.
Encouraging open, transparent conversations about cannabis.
Grown4 is rooted in community. Our purpose is to grow cannabis that promotes a healthier and happier lifestyle. To do that, we need your help! Your feedback is crucial to improving our strain's effectiveness in relieving ailments, connecting with others, inspiring creativity, and uplifting energy and focus.
Please email comments, feedback, questions and reviews to: [email protected]


Black Cherry Punch

"I really enjoyed it had a great grape smell, made me feel energized, yet chill."


Schedule 1

"Fire! Schedule 1 is a beauty with a great high. Made me feel blissed out."


Grown4

"Grown4 is quickly becoming my go to favorites. They are putting out some damn good flower."


Lemon Runtz

"Gave me just the right amount of energy and the creative spark I was looking for."


Lemon Runtz

"Gave me just the right amount of energy and the creative spark I was looking for."


Grown4

"Grown4 is quickly becoming my go to favorites. They are putting out some damn good flower."


Schedule 1

"Fire! Schedule 1 is a beauty with a great high. Made me feel blissed out."


Black Cherry Punch

"I really enjoyed it had a great grape smell, made me feel energized, yet chill."